Locations
Corporate Office
5991 Meijer Drive, Suite 23 & 24
Milford, OH 45150
[email protected]
Blue Chip Cookies-Best Cookies in Cincinnati
Milford, OH
Order Online Cookies and Cookie Cakes: You can Pick Up at our facility or Delivery same day or in the future using our platform with DoorDash! Walk-in customers welcome!
This location is not a retail location. It is our corporate headquarters and also serves our ecommerce and corporate gifts baking facility. We are open to the public for walk-ins, cookie cake orders, corporate cookie gifts, and other unique cookie packages.
Our cookies have been named "best cookies in Cincinnati."
May-August Core Hours Open to Public
Monday-Wednesday and Friday: 11:00 AM-4:00 PM
Thursday-Closed
Saturday: By appointment/Special Request Pick Ups/Prior to Holidays, varies.
Cookie Cakes and our Gourmet Cookies can be ordered for pick up or delivery. Cakes can be picked up early and frozen till the day of the party, event. We keep both 13 inch and 1/2 sheet cookie cakes on hand, frozen, in case of emergency for pop up celebrations. Both chocolate chip and sugar.  Special flavors require 72 hours advance notice.
Niche: best cookie gifts, best cookie cakes, business cookie gifts
Address: 5991 Meijer Drive, Suite 23 & 24 | Milford, OH 45150
Email: [email protected] (Preferred mode of contact)
Phone Number: (513)-697-6610 (Calls returned after 3:00 PM)
Facebook: bluechipcookiesdirect
Instagram: bluechipcookies
Twitter: bluechipcookies
Blue Chip Cookies (Kiosk Inside Hot Head Burritos.)
Newport, KY (5 minutes outside Cincinnati)
Best Cookies in Kentucky/Cincinnati Area-Blue Chip Cookies, a Kiosk inside Hot Head Burritos. Newport, bakes and serves Blue Chip Cookies right in their adorable in store Kiosk. Baked fresh daily, they serve 8 flavors a day, and of course, plenty of sugar with butter cream icing.  Decorated cookie cakes too.
Monday-Sunday 10:00 AM-10:00 PM
Cookie Cakes and our Gourmet Cookies can be ordered for pick up or delivery through our DoorDash Online Store.
Niche: Gourmet Cookies, Cookie Cakes, Delivery, Take Out, Catering, Mexican Food and more.
Address: 94 Carothers Rd | Newport, KY 41071
Email: [email protected]
Phone Number: (859) 581-2626 *
*The phone is answered Hot Head Burritos, but just ask about ordering cookies!
Blue Chip Cookies Certified Licensee
Doordash delivery, walk-in, or call ahead to place your order!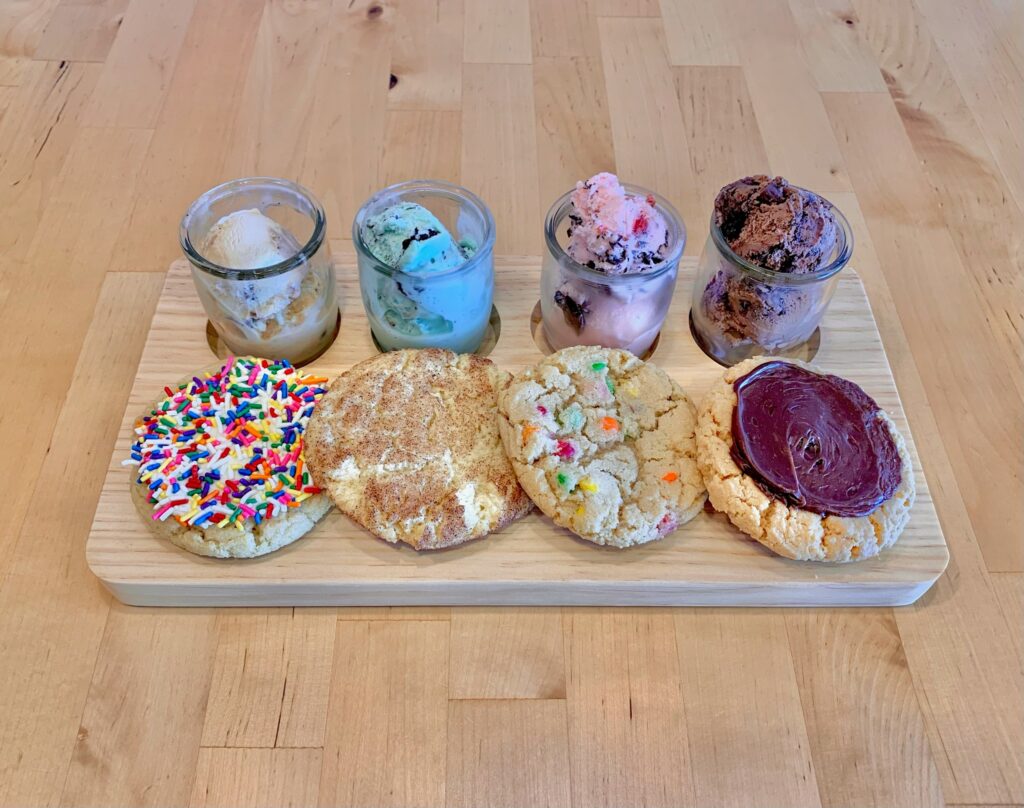 Blue Chip Cookies and Ice Cream-Best Cookies in Kansas City
Leawood, KS
Blue Chip Cookies & Ice Cream, named best cookies in Kansas City. We Bake from scratch every morning! Simply the best cookies! Famous for our decorated cookies and cookie cakes.
Hours of Operation
Monday-Thursday  10:00 AM – 9:00 PM
Friday-Saturday 10:00 AM – 10:00 PM
Sunday: 12:00 PM – 8:00 PM
Niche: Sweets Shop, Cookie Cakes, Decorated Cookies, Ice Cream, Business Cookie Gifts
Address: Leawood Town Center Plaza, 5045 W 117th Street | Leawood, KS 66211
Phone Number: (913)-663-1163
Email: [email protected]
Facebook: bluechipcookiesleawood
Instagram: bluechipcookies_leawood
Coming Soon Blue Chip Cookies in Sherman, TX
Dallas, TX Area
Estimated Opening in September 2023