Locations
Corporate Office
5991 Meijer Drive, Suite 23 & 24
Milford, OH 45150
[email protected]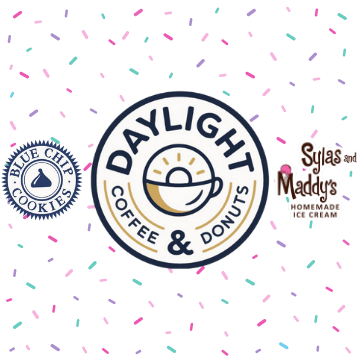 Daylight Donuts-Blue Chip Cookies
Kansas City Area
Basehor and Gardner Store are open until 7:30 PM
Lansing, Leavenworth, Lenexa, Olathe are open until 12:30 PM
Cookie Cakes and our Gourmet Cookies can be ordered for pick up or delivery through online ordering.
Niche: Gourmet Cookies, Cookie Cakes, Coffee, Donuts.
Address: Click Order Online and choose store.
Blue Chip Cookies Certified Licensee
Kansas City is Blue Chip Cookie land.  Now there are 4 more stores in the outer suburbs of Kansas City that cookie lovers of the world can enjoy and rejoice. Daylight Donuts is now baking on their premises at the following locations: Basehor, Gardner, Lansing, and Leavenworth
Known for their donuts across the country, Daylight brings their baking expertise to the cookie business and serving the BEST COOKIES IN THE COUNTRY, Blue Chip Cookies!
Niche: Donuts, Coffee, Ice Cream and NOW Cookies!  Catering and delivery.